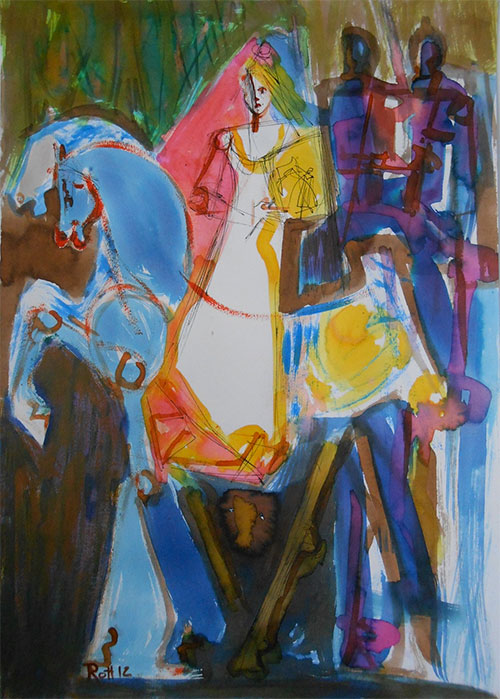 Dolasila: Multimedia- Installation- Event
The installation Dolasila promotes the ladin legends through music, art and literature.
The legend of the Reign of Fanes is presented in an artistic way from the point of view of the protagonist Dolasila.
The focus is on the central role of female figures in the ancient ladin legendary tales.
Original music, soprano: Susy Rottonara
Art works –Statues and paintings: Rott
Texts: Roland Verra
Videos: from Fanes Poem Musical and from the film The Reign of Fanes
Performances
15/02/2013 Premiere: MART Museum in Rovereto:
Press communication


Poster


Pictures under gallery
23/05/2013: Milano, Museo Fondazione Matalon:
Press communication


Poster


Pictures under gallery
The multimedia Installation – event Dolasila is an occasion to meet the excellence of contemporary ladin modern art and the thousand years old cultural tradition of the Dolomites.
The music and the voice of the soprano Susy Rottonara, the lyrics by Roland Verra and the art works (statues and paintings) by Rott (Lois Rottonara) lead the public through the fascinating atmosphere of ladin legends. The title is referred to the the warrior princess Dolasila, protagonist of the legend of Fanes, the most important epic tale in the cultural tradition of Dolomites' ladin people. The scenery of the performance is made of video projections of paintings of scene by Rott, of parts from the experimental opera Fanes Poem Musical – The Musical Poem of the Dolomites and from the film The Reign of Fanes, both awarded with international prizes. It is explicit intention of the authors to present the legend in an artistic way from the point of view of the protagonist Dolasila, as a tribute to the ancient matriarchal tradition and central role of female figures in the ancient ladin legendary tales.