Fanes Poem Musical – The Musical Poem of the Dolomites   VIDEO
Winner – Music Production al WOMEN AND MINORITIES IN MEDIA FESTIVAL 2012 –Towson University, MARYLAND (USA)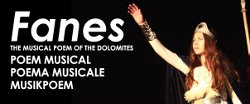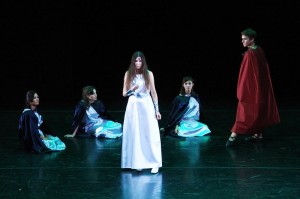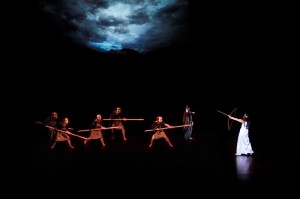 Fanes Poem Musical is an experimental opera for soprano, orchestra and choir composed by Susy Rottonara on lyrics by Roland Verra, where she plays as soprano soloist the protagonist of the mythic tale of the Reign of Fanes, pincess Dolasila.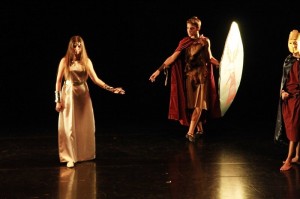 The music of the Musical Poem Fanes tells the legend of Fanes with an emphasized dramatic approach underlined by archaic melodies in an experimental style, where past and present, dream and reality are bound to the magic atmospheres of the legend.
Some of the music developed in the Musical Poem Fanes has been composed as music score of the ladin film Le Rëgn de Fanes (The Reign of Fanes)  and has been awarded with the first prize for the film music at the Renderyard Film Festival in London in 2007 and as best international score at the Garden State Film Festival in Asbury Park (NJ / USA) in 2008.
Moreover this music has been recorded for the first time in 2009 with an arrangement sung and played by the author herself in the album Dreaming of Fanes, the first album sung in Ladin that has ever participated at the Grammys and that was included in the entry list of the category "Best Album of the Year" at the 53. Grammy Awards.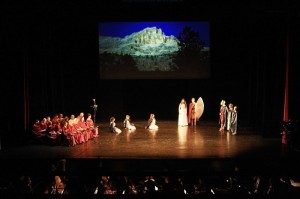 The Musical Poem Fanes was composed in 2009, in the year of the declaration of the Dolomites World Natural Heritage by the UNESCO and in the same year it was staged for the first time with educational purpose especially for children.
In September 2011 the opera was staged at the City Theatre of Bolzano with the Orchestra Filarmonica Italiana ( read Press communication and review )and gained the patronage of the Foundation Dolomites – UNESCO.
In this occasion the opera has been recorded and shown by Television In RAI TV Ladina of Bolzano.
Videos and pictures of the opera
"Poster"

   "Program-book" –

On the 30. March 2012 the Musical Poem Fanes has won in the category "music production" the Women and Minorities in Media Festival at Towson University College of Fine arts and Communication – Maryland (USA).
In February 2013 Fanes Poem Musical has been one of the 10 winners of the Competition of ideas and projects for the candidacy of Bolzano with Venice and the North-East as European Capital of Culture 2019