The dream of Dolasila (Il sogno di Dolasila) is a multimedia project of music, art and poetry where the ancient tradition of the legends of the Dolomites meets the opera tradition.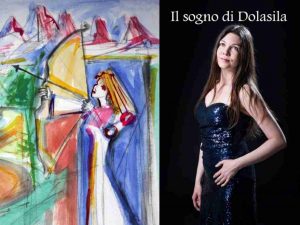 The aim of the project is to promote the Ladin legends of the Dolomites and to make the public become aware of the universal, actual themes that characterize the mythic tale, especially of the importance of feelings, of peace and of living in harmony with nature, through music, art and poetry.
The dream of Dolasila was performed the first time as multimedia concert in 2016 in a tournée with the Orchestra Kleutrom in the main theatres of Südtirol and also in the Teatro Filodrammatici in Milano.
In 2017 a video installation of music by Susy Rottonara and artworks by Lois Rottonara Rott from Il sogno di Dolasila has taken part at the international exhibition Energia creativa – tra astrazione e figurazione in the Palazzo Albrizzi in Venice, site of the Guatemala pavillon, in the context of the 57. Biennale d'arte di Venezia.