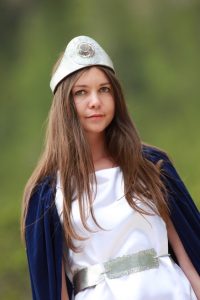 The dream of Dolasila is not only the dream of Susy Rottonara to perform the female protagonist of the mythic tale of the Reign of Fanes, princess Dolasila, who she bounds her artistic image to, but is the aim to make the public become aware of the actual, universal themes in the legend through music and art. Read more about the contemporary opera Le some de Dolasila – The dream of Dolasila…
Susy Rottonara's music, where her soprano voice plays the most important role, is the result of a deep rooted passion for the Dolomites mountains where she has grown up and for the magic atmospheres of Ladin legends. The language of her songs is Ladin, the most ancient alpine language yet spoken today. Her dream as a child is to play the role of princess Dolasila, the protagonist of the legend of the Reign of Fanes, the most ancient and important cultural heritage in Ladin cultural tradition. After the film the Reign of Fanes she composes the experimental opera Fanes Poem Musical – The Musical Poem of the Dolomites, creates and performs the multimedia Installation Dolasila, the multimedia concert Il sogno di Dolasila –The dream of Dolasila and performs in many shows and events.
"Dolasila is not only the protagonist of the legend of Fanes, as she is comparable to many female protagonists of epic poetry and classical operas and also to the modern woman. Indeed she is characterised by an inner conflict between the will to fulfil her duties and the desire to express freely her feelings by making decisions independently and facing the consequences" (Susy Rottonara, interview on the magazine Gana, 2011).
Trailer Il sogno di Dolasila – The dream of Dolasila