Susy Rottonara has always worked together with her father, the famous artist Lois Rottonara Rott, at various multimedia projects of art and music presented and awarded on international level, mainly productions about the Ladin legends of the Dolomites and events of art and music at exhibitions.
The performance of music from both the classical piano repertoire and the opera repertoire for soprano and piano connected to artworks aims to make the public live a unique, global cultural experience of art and music.
27/07/2018, ROTT – music and art: vernissage retrospective exhibition
Extract from Jardin sous la plouie by C.Debussy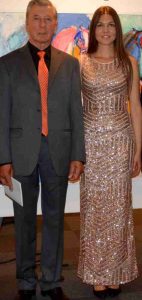 In 2017 a video installation of music and art with original music by Susy Rottonara and artworks by Lois Rottonara Rott from the multimedia concert  Il sogno di Dolasila – The dream of Dolasila has participated at the international exhibition Energia creativa – tra astrazione e figurazione in the context of the 57. Biennale di Venezia in the Palazzo Albrizzi, site of the Guatemala Pavillon.
In 2016 Susy and her father worked together at the production of the multimedia concert Il sogno di Dolasila – The dream of Dolasila, performed in the main theatres of Südtirol and in the Teatro Filodrammatci in Milano.
In 2013 they worked together at the multimedia installation Dolasila, that was performed as premiere in the Museum MART in Rovereto, then in the Museum -Foundation L.Matalon in Milano and in 2014 in the Italian Cultural Institute in La Valletta – Malta.
Rott was artistic adviser in the film The Reign of Fanes  and made the paintings for the scene  of the stage of the experimental opera Fanes Poem Musical – The Musical Poem of the Dolomites at the City theatre of Bolzano.
In 2015 Susy played pieces by C.Debussy at the piano and sung lieder by R.Strauss by playing herself the accompaniment on the piano at the vernissage of the exhibition Horses.
In 2011, at the Vernissage of the Exhibition "Mother" and in the 200th birthday anniversary of F.Liszt, Susy played some pieces by F.Liszt at the piano and sung some of them by playing herself the accompaniment on the piano.
More Projects of ROTT – Music and art in Events and Projects
03/09/2015 – Vernissage of the exhibition Horses by ROTT, Gallery Raiffeisen Brunico:
Susy Rottonara – soprano, piano: pieces by C.Debussy, Lieder by R.Strauss
2011: Vernissage of the exhibition Mother by Rott on occasion of the 200. anniversary of  F.Liszt: performances as soprano and pianist at the same time. Press: